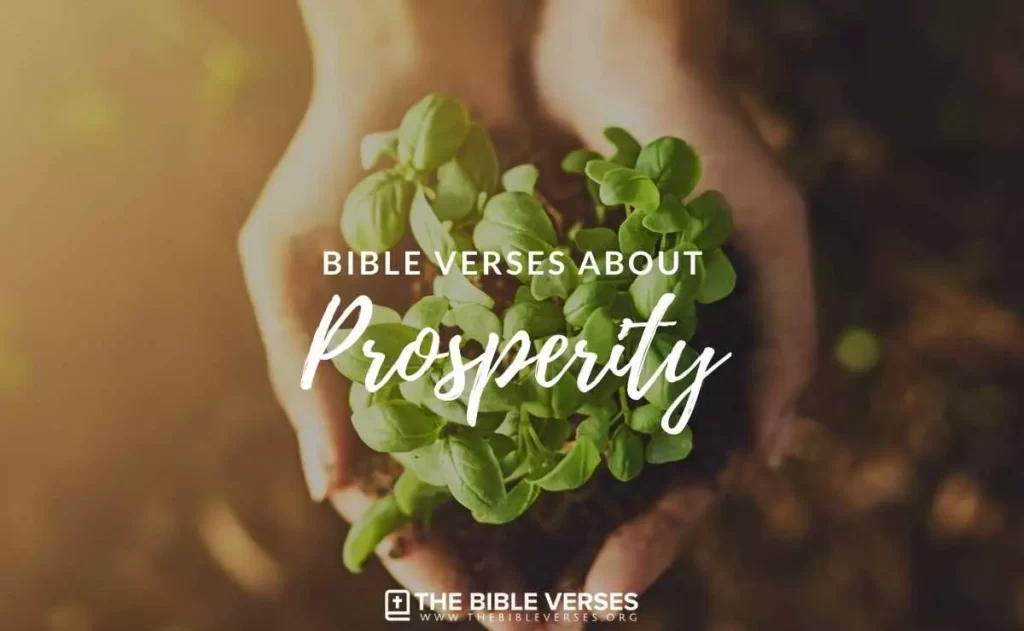 Genesis 39:2-3
The Lord was with Joseph, and he became a successful man, and he was in the house of his Egyptian master. His master saw that the Lord was with him and that the Lord caused all that he did to succeed in his hands (Ge 39:2-3).
Exodus 1:21
And because the midwives feared God, he gave them families (Ex 1:21).
Deuteronomy 6:10-12
And when the Lord your God brings you into the land that he swore to your fathers, to Abraham, to Isaac, and to Jacob, to give you—with great and good cities that you did not build, and houses full of all good things that you did not fill, and cisterns that you did not dig, and vineyards and olive trees that you did not plant—and when you eat and are full, then take care lest you forget the Lord, who brought you out of the land of Egypt, out of the house of slavery (Deut 6:10-12).
Deuteronomy 32:15
But Jeshurun grew fat, and kicked; you grew fat, stout, and sleek; then he forsook God who made him and scoffed at the Rock of his salvation (Deut 32:15).
Deuteronomy 29:9
Therefore keep the words of this covenant and do them, that you may prosper in all that you do (Deut 29:9).
Deuteronomy 30:9
The Lord your God will make you abundantly prosperous in all the work of your hand, in the fruit of your womb and in the fruit of your cattle and in the fruit of your ground. For the Lord will again take delight in prospering you, as he took delight in your fathers (Deut 30:9).
Joshua 1:7
Only be strong and very courageous, being careful to do according to all the law that Moses my servant commanded you. Do not turn from it to the right hand or to the left, that you may have good success wherever you go (Jos 1:7).
Joshua 1:8
This Book of the Law shall not depart from your mouth, but you shall meditate on it day and night, so that you may be careful to do according to all that is written in it. For then you will make your way prosperous, and then you will have good success (Jos 1:8).
1 Chronicles 22:13
Then you will prosper if you are careful to observe the statutes and the rules that the Lord commanded Moses for Israel. Be strong and courageous. Fear not; do not be dismayed (1 Chr 22:13).
2 Chronicles 26:5
He set himself to seek God in the days of Zechariah, who instructed him in the fear of God, and as long as he sought the Lord, God made him prosper (2 Chr 26:5).
2 Chronicles 20:20
And they rose early in the morning and went out into the wilderness of Tekoa. And when they went out, Jehoshaphat stood and said, Hear me, Judah and inhabitants of Jerusalem! Believe in the Lord your God, and you will be established; believe his prophets, and you will succeed (2 Chr 20:20).
2 Chronicles 31:20-21
Thus Hezekiah did throughout all Judah, and he did what was good and right and faithful before the Lord his God. And every work that he undertook in the service of the house of God and in accordance with the law and the commandments, seeking his God, he did with all his heart, and prospered (2 Chr 31:20-21).
Nehemiah 2:20
The God of heaven will make us prosper, and we his servants will arise and build, but you have no portion or right or claim in Jerusalem (Neh 2:20).
Psalm 1:1-3
Blessed is the man who walks not in the counsel of the wicked, nor stands in the way of sinners, nor sits in the seat of scoffers; but his delight is in the law of the Lord, and on his law he meditates day and night. He is like a tree planted by streams of water that yields its fruit in its season, and its leaf does not wither. In all that he does, he prospers (Ps 1:1-3).
Psalm 122:6
Pray for the peace of Jerusalem: they shall prosper that love thee (Ps 122:6).
Proverbs 1:32
For the turning away of the simple shall slay them, and the prosperity of fools shall destroy them (Pr 1:32).
Proverbs 11:25
Whoever brings blessing will be enriched, and one who waters will himself be watered (Pr 11:25).
Proverbs 13:4
The soul of the sluggard craves and gets nothing, while the soul of the diligent is richly supplied (Pr 13:4).
Proverbs 13:21
Disaster pursues sinners, but the righteous are rewarded with good (Pr 13:21).
Proverbs 28:13
Whoever conceals his transgressions will not prosper, but he who confesses and forsakes them will obtain mercy (Pr 28:13).
Proverbs 28:25
The greedy stir up conflict, but those who trust in the Lord will prosper (Pr 28:25).
Proverbs 30:8-9
Remove far from me falsehood and lying; give me neither poverty nor riches; feed me with the food that is needful for me, lest I be full and deny you and say, "Who is the Lord?" or lest I be poor and steal and profane the name of my God (Pr 30:8-9).
Isaiah 54:17
No weapon that is formed against thee shall prosper; and every tongue that shall rise against thee in judgment thou shalt condemn. This is the heritage of the servants of the Lord, and their righteousness is of me, saith the Lord (Is 54:17).
Jeremiah 46:27
But fear not, O Jacob my servant, nor be dismayed, O Israel, for behold, I will save you from far away, and your offspring from the land of their captivity. Jacob shall return and have quiet and ease, and none shall make him afraid (Jr 46:27).
3 John
Beloved, I wish above all things that thou mayest prosper and be in health, even as thy soul prospereth (3 Jn 2).
Read More: