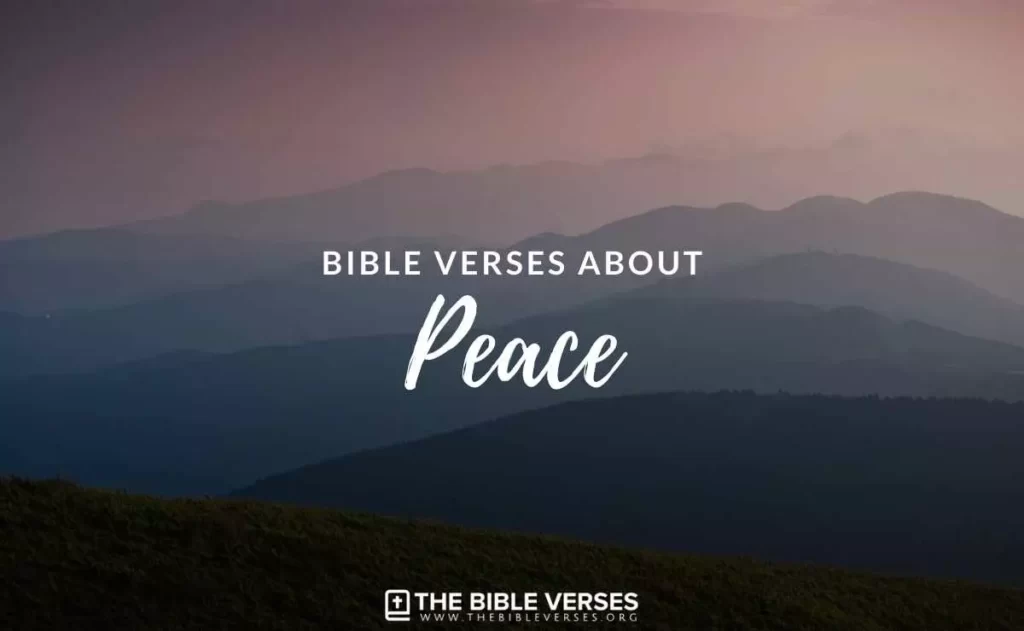 Job 25:2
Dominion and fear are with God; he makes peace in his high heaven (Job 25:2).
Psalm 4:8
I will both lie down in peace, and sleep; For You alone, O Lord, make me dwell in safety (Ps 4:8).
Psalm 29:11
May the Lord give strength to his people! May the Lord bless his people with peace! (Ps 29:11).
Psalm 34:14
Turn away from evil and do good; seek peace and pursue it (34:14).
Psalm 119:165
Great peace have those who love your law; nothing can make them stumble (Ps 119:165).
Proverbs 3:17
Her ways are ways of pleasantness, and all her paths are peace (Pr 3:17).
Isaiah 9:6
For to us a child is born, to us a son is given; and the government shall be upon his shoulder, and his name shall be called Wonderful Counselor, Mighty God, Everlasting Father, Prince of Peace (Is 9:6).
Isaiah 26:3
You keep him in perfect peace whose mind is stayed on you, because he trusts in you (Is 26:3).
Isaiah 48:18
Oh that you had paid attention to my commandments! Then your peace would have been like a river, and your righteousness like the waves of the sea (Is 48:18).
Isaiah 53:5
But he was pierced for our transgressions; he was crushed for our iniquities; upon him was the chastisement that brought us peace, and with his wounds we are healed (Is 53:5).
Ezekiel 34:25
I will make with them a covenant of peace and banish wild beasts from the land, so that they may dwell securely in the wilderness and sleep in the woods (Ez 34:25).
Matthew 5:9
Blessed are the peacemakers, for they shall be called sons of God (Mt 5:9).
Luke 1:78-79
Because of the tender mercy of our God, whereby the sunrise shall visit us from on high to give light to those who sit in darkness and in the shadow of death, to guide our feet into the way of peace (Lk 1:78-79).
Luke 2:13-14
And suddenly there was with the angel a multitude of the heavenly host praising God and saying, "Glory to God in the highest, and on earth peace among those with whom he is pleased!" (Lk 2:13-14).
John 14:27
Peace I leave with you; my peace I give to you. Not as the world gives do I give to you. Let not your hearts be troubled, neither let them be afraid (Jn 14:27).
John 16:33
I have said these things to you, that in me you may have peace. In the world you will have tribulation. But take heart; I have overcome the world (Jn 16:33).
Acts 10:36
As for the word that he sent to Israel, preaching good news of peace through Jesus Christ (he is Lord of all) (Acts 10:36).
Romans 5:1
Therefore, since we have been justified by faith, we have peace with God through our Lord Jesus Christ (Ro 5:1).
Romans 8:6
For to set the mind on the flesh is death, but to set the mind on the Spirit is life and peace (Ro 8:6).
Romans 12:18
If possible, so far as it depends on you, live peaceably with all (Ro 12:18).
Romans 14:17
For the kingdom of God is not a matter of eating and drinking but of righteousness and peace and joy in the Holy Spirit (Ro 14:17).
Romans 15:33
May the God of peace be with you all. Amen (Ro 15:33).
Romans 16:20
El Dios de paz aplastará en breve a Satanás debajo de los pies de ustedes. La gracia de nuestro Señor Jesús sea con ustedes (Ro 16:20).
1 Corinthians 14:33
For God is not a God of confusion but of peace. As in all the churches of the saints (1 Co 14:33).
2 Corinthians 13:11
Finally, brothers, rejoice. Aim for restoration, comfort one another, agree with one another, live in peace; and the God of love and peace will be with you (2 Co 13:11).
Galatians 1:3
Grace to you and peace from God our Father and the Lord Jesus Christ (Ga 1:3).
Galatians 5:22-23
But the fruit of the Spirit is love, joy, peace, patience, kindness, goodness, faithfulness, gentleness, self-control; against such things there is no law (Ga 5:22-23).
Ephesians 2:14
For he himself is our peace, who has made us both one and has broken down in his flesh the dividing wall of hostility (Eph 2:14).
Ephesians 4:3
Eager to maintain the unity of the Spirit in the bond of peace (Eph 4:3).
Philippians 4:7
And the peace of God, which surpasses all understanding, will guard your hearts and your minds in Christ Jesus (Phil 4:7).
Colossians 1:20
And through him to reconcile to himself all things, whether on earth or in heaven, making peace by the blood of his cross (Col 1:20).
Colossians 3:15
And let the peace of Christ rule in your hearts, to which indeed you were called in one body. And be thankful (Col 3:15).
1 Thessalonians 5:13
And to esteem them very highly in love because of their work. Be at peace among yourselves (1 Thess 5:13).
2 Thessalonians 3:16
Now may the Lord of peace himself give you peace at all times in every way. The Lord be with you all (2 Thess 3:16).
2 Timothy 2:22
So flee youthful passions and pursue righteousness, faith, love, and peace, along with those who call on the Lord from a pure heart (2 Ti 2:22).
Read More: