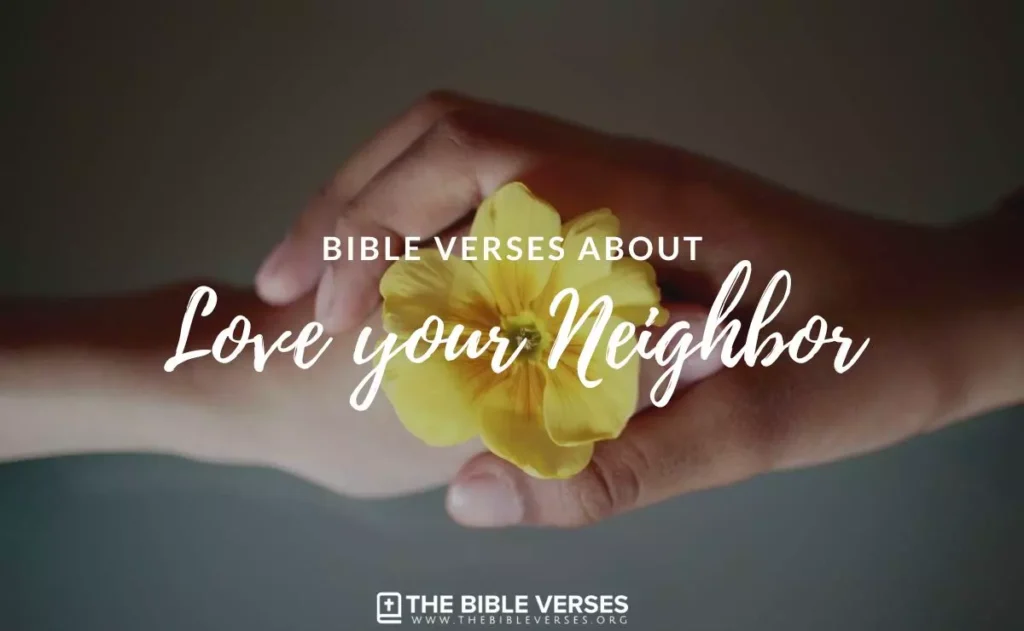 Matthew 22:39
And a second is like it: You shall love your neighbor as yourself.
Luke 10:27
And he answered, "You shall love the Lord your God with all your heart and with all your soul and with all your strength and with all your mind, and your neighbor as yourself."
Romans 13:9
For the commandments, "You shall not commit adultery, You shall not murder, You shall not steal, You shall not covet," and any other commandment, are summed up in this word: "You shall love your neighbor as yourself."
Galatians 5:14
For the whole law is fulfilled in one word: "You shall love your neighbor as yourself."
Leviticus 19:18
You shall not take vengeance or bear a grudge against the sons of your own people, but you shall love your neighbor as yourself: I am the Lord.
Luke 6:31
And as you wish that others would do to you, do so to them.
Romans 12:10
Love one another with brotherly affection. Outdo one another in showing honor.
1 John 3:17
But if anyone has the world's goods and sees his brother in need, yet closes his heart against him, how does God's love abide in him?
John 13:34-35
A new commandment I give to you, that you love one another: just as I have loved you, you also are to love one another. By this all people will know that you are my disciples, if you have love for one another.
1 John 4:11
Beloved, if God so loved us, we also ought to love one another.
Romans 15:2
Let each of us please his neighbor for his good, to build him up.
Galatians 6:10
So then, as we have opportunity, let us do good to everyone, and especially to those who are of the household of faith.
Luke 6:27-28
But I say to you who hear, Love your enemies, do good to those who hate you, 28 bless those who curse you, pray for those who abuse you.
1 John 3:16
By this we know love, that he laid down his life for us, and we ought to lay down our lives for the brothers.
Matthew 5:43-44
You have heard that it was said, 'You shall love your neighbor and hate your enemy.' But I say to you, Love your enemies and pray for those who persecute you.
Ephesians 4:32
Be kind to one another, tenderhearted, forgiving one another, as God in Christ forgave you.
Colossians 3:12-13
Put on then, as God's chosen ones, holy and beloved, compassionate hearts, kindness, humility, meekness, and patience, bearing with one another and, if one has a complaint against another, forgiving each other; as the Lord has forgiven you, so you also must forgive.
James 2:8-9
If you really fulfill the royal law according to the Scripture, "You shall love your neighbor as yourself," you are doing well. But if you show partiality, you are committing sin and are convicted by the law as transgressors.
Leviticus 19:34
You shall treat the stranger who sojourns with you as the native among you, and you shall love him as yourself, for you were strangers in the land of Egypt: I am the Lord your God.
Proverbs 14:21
Whoever despises his neighbor is a sinner, but blessed is he who is generous to the poor.
Luke 10:36-37
Which of these three, do you think, proved to be a neighbor to the man who fell among the robbers?" He said, "The one who showed him mercy." And Jesus said to him, "You go, and do likewise."
John 15:12
This is my commandment, that you love one another as I have loved you.
Romans 12:15
Rejoice with those who rejoice, weep with those who weep.
Ephesians 5:2
And walk in love, as Christ loved us and gave himself up for us, a fragrant offering and sacrifice to God.
Philippians 2:3-4
Do nothing from selfish ambition or conceit, but in humility count others more significant than yourselves. Let each of you look not only to his own interests, but also to the interests of others.
1 Thessalonians 5:11
Therefore encourage one another and build one another up, just as you are doing.
1 Peter 1:22
Having purified your souls by your obedience to the truth for a sincere brotherly love, love one another earnestly from a pure heart.
1 John 4:7-8
Beloved, let us love one another, for love is from God, and whoever loves has been born of God and knows God. Anyone who does not love does not know God, because God is love.
Galatians 5:13
For you were called to freedom, brothers. Only do not use your freedom as an opportunity for the flesh, but through love serve one another.
Ephesians 4:2
With all humility and gentleness, with patience, bearing with one another in love.
James 2:14-17
What good is it, my brothers, if someone says he has faith but does not have works? Can that faith save him? If a brother or sister is poorly clothed and lacking in daily food, and one of you says to them, "Go in peace, be warmed and filled," without giving them the things needed for the body, what good is that? So also faith by itself, if it does not have works, is dead.
1 John 3:18
Little children, let us not love in word or talk but in deed and in truth.
Romans 13:10
Love does no wrong to a neighbor; therefore love is the fulfilling of the law.
1 Thessalonians 4:9
Now concerning brotherly love you have no need for anyone to write to you, for you yourselves have been taught by God to love one another.
Hebrews 10:24
And let us consider how to stir up one another to love and good works.
1 Peter 3:8
Finally, all of you, have unity of mind, sympathy, brotherly love, a tender heart, and a humble mind.
Read More: