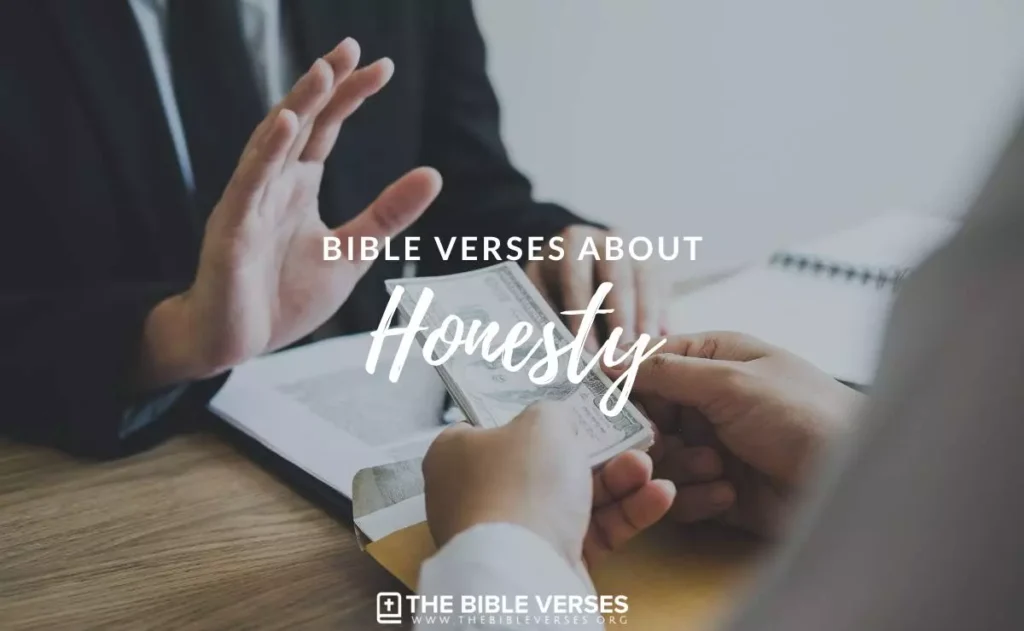 Proverbs 12:22
Lying lips are an abomination to the Lord, but those who act faithfully are his delight.
Proverbs 16:11
A just balance and scales are the Lord's; all the weights in the bag are his work.
Ephesians 4:25
Therefore, having put away falsehood, let each one of you speak the truth with his neighbor, for we are members one of another.
2 Corinthians 8:21
For we aim at what is honorable not only in the Lord's sight but also in the sight of man.
Leviticus 19:11
You shall not steal; you shall not deal falsely; you shall not lie to one another.
Proverbs 11:3
The integrity of the upright guides them, but the crookedness of the treacherous destroys them.
Colossians 3:9-10
Do not lie to one another, seeing that you have put off the old self with its practices and have put on the new self, which is being renewed in knowledge after the image of its creator.
Acts 24:16
So I always take pains to have a clear conscience toward both God and man.
Psalm 15:1-2
O Lord, who shall sojourn in your tent? Who shall dwell on your holy hill? He who walks blamelessly and does what is right and speaks truth in his heart;
Philippians 4:8
Finally, brothers, whatever is true, whatever is honorable, whatever is just, whatever is pure, whatever is lovely, whatever is commendable, if there is any excellence, if there is anything worthy of praise, think about these things.
Proverbs 19:1
Better is a poor person who walks in his integrity than one who is crooked in speech and is a fool.
Ephesians 4:28
Let the thief no longer steal, but rather let him labor, doing honest work with his own hands, so that he may have something to share with anyone in need.
Proverbs 20:7
The righteous who walks in his integrity— blessed are his children after him!
Zechariah 8:16
These are the things that you shall do: Speak the truth to one another; render in your gates judgments that are true and make for peace.
Psalm 119:30
I have chosen the way of faithfulness; I set your rules before me.
Proverbs 12:19
Truthful lips endure forever, but a lying tongue is but for a moment.
1 Peter 3:10
Whoever desires to love life and see good days, let him keep his tongue from evil and his lips from speaking deceit.
Luke 16:10
One who is faithful in a very little is also faithful in much, and one who is dishonest in a very little is also dishonest in much.
Proverbs 10:9
Whoever walks in integrity walks securely, but he who makes his ways crooked will be found out.
Proverbs 28:6
Better is a poor man who walks in his integrity than a rich man who is crooked in his ways.
Romans 12:17
Repay no one evil for evil, but give thought to do what is honorable in the sight of all.
Psalm 25:21
May integrity and uprightness preserve me, for I wait for you.
1 John 3:18
Little children, let us not love in word or talk but in deed and in truth.
Proverbs 21:3
To do righteousness and justice is more acceptable to the Lord than sacrifice.
Matthew 5:37
Let what you say be simply 'Yes' or 'No'; anything more than this comes from evil.
James 5:12
But above all, my brothers, do not swear, either by heaven or by earth or by any other oath, but let your "yes" be yes and your "no" be no, so that you may not fall under condemnation.
Proverbs 28:18
Whoever walks in integrity will be delivered, but he who is crooked in his ways will suddenly fall.
Ephesians 6:14
Stand therefore, having fastened on the belt of truth, and having put on the breastplate of righteousness.
Proverbs 13:5
The righteous hates falsehood, but the wicked brings shame and disgrace.
Psalm 51:6
Behold, you delight in truth in the inward being, and you teach me wisdom in the secret heart.
Read More: