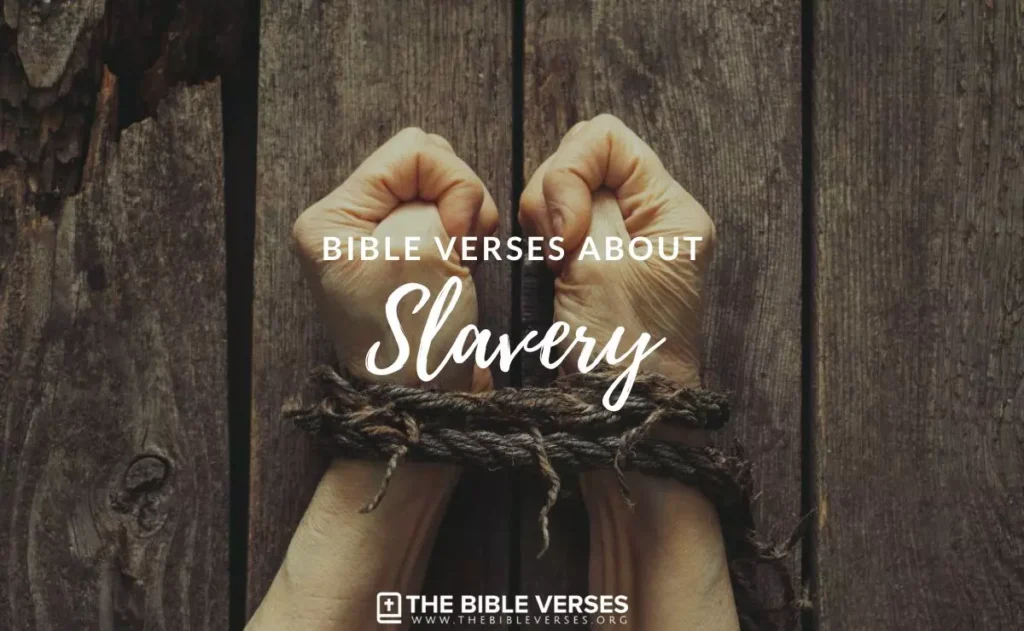 Bible Quotes about Slavery and Captivity
Uncover transformative Bible verses on slavery and captivity, revealing the strength of the human spirit and God's power to bring liberation. Explore scripture's teachings on breaking the chains of oppression, finding hope amidst adversity, and embracing freedom in Christ. Discover profound insights and find solace through these empowering verses, inspiring a life of liberty and restoration.
1 John 1:8
If we say we have no sin, we deceive ourselves, and the truth is not in us.
Titus 3:3
For we ourselves were once foolish, disobedient, led astray, slaves to various passions and pleasures, passing our days in malice and envy, hated by others and hating one another.
Leviticus 25:42
For they are my servants, whom I brought out of the land of Egypt; they shall not be sold as slaves.
Romans 6:16
Do you not know that if you present yourselves to anyone as obedient slaves, you are slaves of the one whom you obey, either of sin, which leads to death, or of obedience, which leads to righteousness?.
Romans 6:20
For when you were slaves of sin, you were free in regard to righteousness.
Exodus 6:6
Say therefore to the people of Israel, 'I am the Lord, and I will bring you out from under the burdens of the Egyptians, and I will deliver you from slavery to them, and I will redeem you with an outstretched arm and with great acts of judgment.
John 8:34
Jesus answered them, "Truly, truly, I say to you, everyone who practices sin is a slave to sin.
1 Timothy 1:9-10
Understanding this, that the law is not laid down for the just but for the lawless and disobedient, for the ungodly and sinners, for the unholy and profane, for those who strike their fathers and mothers, for murderers, the sexually immoral, men who practice homosexuality, enslavers, liars, perjurers, and whatever else is contrary to sound doctrine.
Romans 8:15
For you did not receive the spirit of slavery to fall back into fear, but you have received the Spirit of adoption as sons, by whom we cry, "Abba! Father!".
Romans 7:14
For we know that the law is spiritual, but I am of the flesh, sold under sin.
Romans 7:22-23
For I delight in the law of God, in my inner being, but I see in my members another law waging war against the law of my mind and making me captive to the law of sin that dwells in my members.
Deuteronomy 24:18
But you shall remember that you were a slave in Egypt and the Lord your God redeemed you from there; therefore I command you to do this.
Exodus 20:2
I am the Lord your God, who brought you out of the land of Egypt, out of the house of slavery.
Romans 6:22
But now that you have been set free from sin and have become slaves of God, the fruit you get leads to sanctification and its end, eternal life.
Romans 6:17
But thanks be to God, that you who were once slaves of sin have become obedient from the heart to the standard of teaching to which you were committed.
Nehemiah 9:36
Behold, we are slaves this day; in the land that you gave to our fathers to enjoy its fruit and its good gifts, behold, we are slaves.
Exodus 13:3
Then Moses said to the people, Remember this day in which you came out from Egypt, out of the house of slavery, for by a strong hand the Lord brought you out from this place. No leavened bread shall be eaten.
Galatians 4:3-5
In the same way we also, when we were children, were enslaved to the elementary principles of the world. But when the fullness of time had come, God sent forth his Son, born of woman, born under the law, to redeem those who were under the law, so that we might receive adoption as sons.
Isaiah 61:1
The Spirit of the Lord God is upon me, because the Lord has anointed me to bring good news to the poor; he has sent me to bind up the brokenhearted, to proclaim liberty to the captives, and the opening of the prison to those who are bound.
Galatians 5:1
For freedom Christ has set us free; stand firm therefore, and do not submit again to a yoke of slavery.
Psalm 68:6
God settles the solitary in a home; he leads out the prisoners to prosperity, but the rebellious dwell in a parched land.
Psalm 107:14
He brought them out of darkness and the shadow of death, and burst their bonds apart.
Romans 6:20-21
For when you were slaves of sin, you were free in regard to righteousness. But what fruit were you getting at that time from the things of which you are now ashamed? For the end of those things is death.
2 Timothy 2:26
And they may come to their senses and escape from the snare of the devil, after being captured by him to do his will.
Ephesians 4:22
To put off your old self, which belongs to your former manner of life and is corrupt through deceitful desires.
Read More: