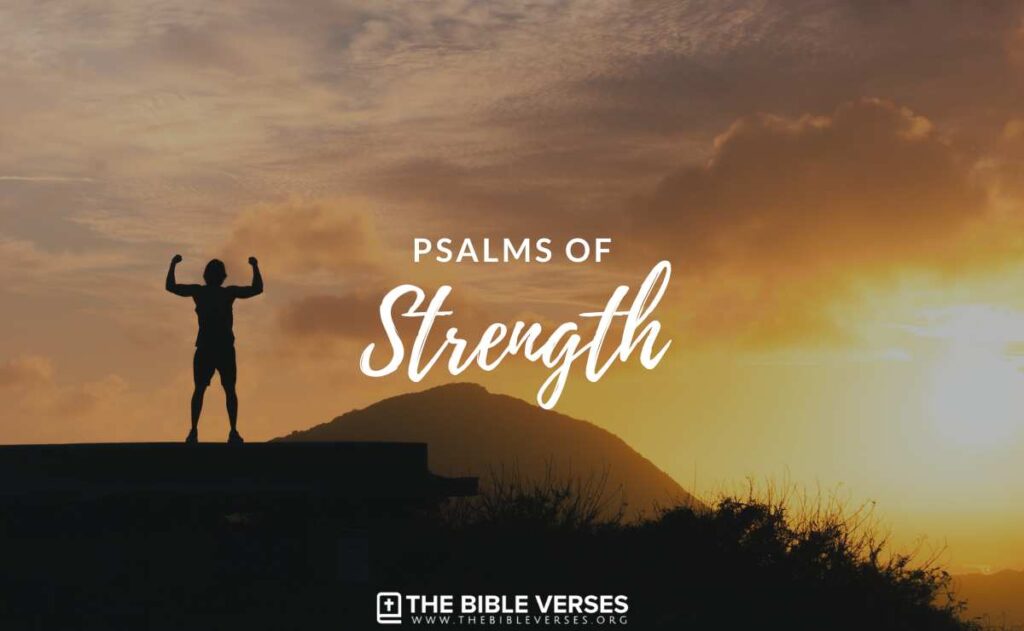 Psalms for Strength and Courage in Difficult Times
Discover unwavering strength in God through our collection of Psalms. These timeless verses inspire resilience, courage, and a fortified spirit. Delve into the source of divine strength within the Psalms and embark on a transformative journey of unwavering fortitude.
Psalm 18:1
I love you, O Lord, my strength.
Psalm 18:2
The Lord is my rock and my fortress and my deliverer, my God, my rock, in whom I take refuge, my shield, and the horn of my salvation, my stronghold.
Psalm 18:32
The God who equipped me with strength and made my way blameless.
Psalm 18:39
For you equipped me with strength for the battle; you made those who rise against me sink under me.
Psalm 22:19
But you, O Lord, do not be far off! O you my help, come quickly to my aid!
Psalm 27:1
The Lord is my light and my salvation; whom shall I fear? The Lord is the stronghold of my life; of whom shall I be afraid?
Psalm 28:7
The Lord is my strength and my shield; in him my heart trusts, and I am helped; my heart exults, and with my song I give thanks to him.
Psalm 29:11
May the Lord give strength to his people! May the Lord bless his people with peace!
Psalm 31:2
Incline your ear to me; rescue me speedily! Be a rock of refuge for me, a strong fortress to save me!
Psalm 31:3
For you are my rock and my fortress; and for your name's sake you lead me and guide me.
Psalm 31:4
You take me out of the net they have hidden for me, for you are my refuge.
Psalm 37:39
The salvation of the righteous is from the Lord; he is their stronghold in the time of trouble.
Psalm 46:1
God is our refuge and strength, a very present help in trouble.
Psalm 59:9
O my Strength, I will watch for you, for you, O God, are my fortress.
Psalm 59:17
O my Strength, I will sing praises to you, for you, O God, are my fortress, the God who shows me steadfast love.
Psalm 61:3
For you have been my refuge, a strong tower against the enemy.
Psalm 62:7
On God rests my salvation and my glory; my mighty rock, my refuge is God.
Psalm 71:3
Be to me a rock of refuge, to which I may continually come; you have given the command to save me, for you are my rock and my fortress.
Psalm 71:7
I have been as a portent to many, but you are my strong refuge.
Psalm 73:26
My flesh and my heart may fail, but God is the strength of my heart and my portion forever.
Psalm 81:1
Sing aloud to God our strength; shout for joy to the God of Jacob!
Psalm 84:5
Blessed are those whose strength is in you, in whose heart are the highways to Zion.
Psalm 84:7
They go from strength to strength; each one appears before God in Zion.
Psalm 89:21
So that my hand shall be established with him; my arm also shall strengthen him.
Psalm 89:26
He shall cry to me, 'You are my Father, my God, and the Rock of my salvation.'
Psalm 89:40
You have breached all his walls; you have laid his strongholds in ruins.
Psalm 91:2
I will say to the Lord, "My refuge and my fortress, my God, in whom I trust."
Psalm 94:22
But the Lord has become my stronghold, and my God the rock of my refuge.
Psalm 95:1
Oh come, let us sing to the Lord; let us make a joyful noise to the rock of our salvation!
Psalm 96:6
Splendor and majesty are before him; strength and beauty are in his sanctuary.
Psalm 105:4
Seek the Lord and his strength; seek his presence continually!
Psalm 118:14
The Lord is my strength and my song; he has become my salvation.
Psalm 118:19
Open to me the gates of righteousness, that I may enter through them and give thanks to the Lord.
Psalm 118:22
The stone that the builders rejected has become the cornerstone.
Psalm 118:27
The Lord is God, and he has made his light to shine upon us. Bind the festal sacrifice with cords, up to the horns of the altar!
Psalm 119:28
My soul melts away for sorrow; strengthen me according to your word!
Psalm 144:1
Blessed be the Lord, my rock, who trains my hands for war, and my fingers for battle.
Psalm 144:2
He is my steadfast love and my fortress, my stronghold and my deliverer, my shield and he in whom I take refuge, who subdues peoples under me.
Psalm 144:10
Who gives victory to kings, who rescues David his servant from the cruel sword.
Psalm 147:13
For he strengthens the bars of your gates; he blesses your children within you.
Read More: