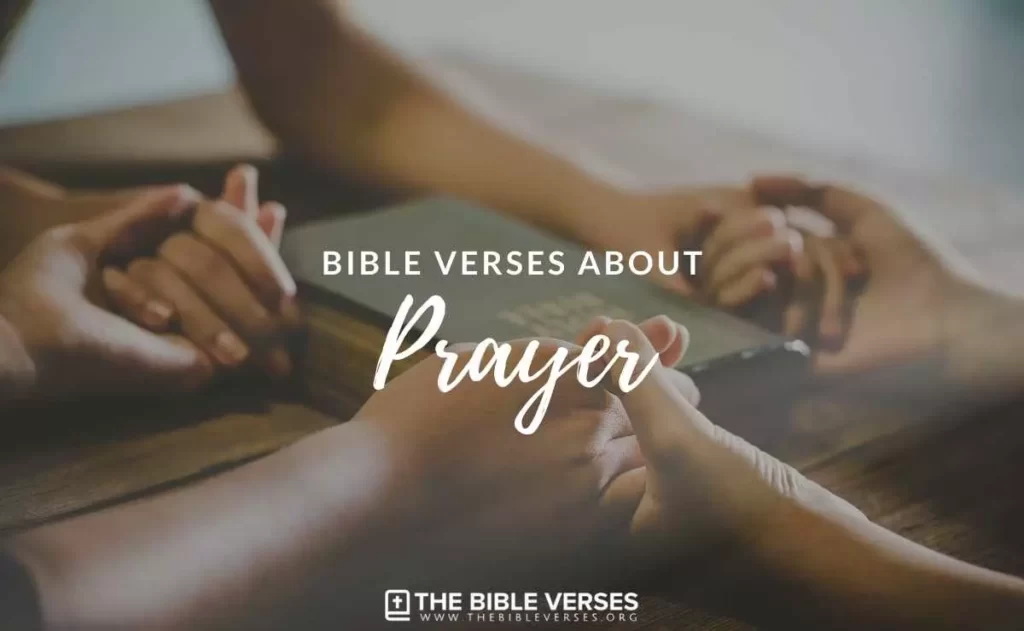 2 Samuel 22:7
In my distress I called upon the Lord; to my God I called. From his temple he heard my voice, and my cry came to his ears (2 Sa 22:7).
2 Chronicles 7:14
If my people who are called by my name humble themselves, and pray and seek my face and turn from their wicked ways, then I will hear from heaven and will forgive their sin and heal their land (2 Chr 7:14).
Psalm 31:22
I had said in my alarm, "I am cut off from your sight." But you heard the voice of my pleas for mercy when I cried to you for help (Ps 31:22).
Psalm 34:17
When the righteous cry for help, the Lord hears and delivers them out of all their troubles (Ps 34:17).
Psalm 118:5
Out of my distress I called on the Lord; the Lord answered me and set me free (Ps 118:5).
Proverbs 15:29
The Lord is far from the wicked, but he hears the prayer of the righteous (Pr 15:29).
Isaiah 55:6
Seek the Lord while he may be found; call upon him while he is near (Is 55:6).
Jeremiah 29:12-13
Then you will call upon me and come and pray to me, and I will hear you. You will seek me and find me, when you seek me with all your heart (Jr 29:12-13).
Jeremiah 33:3
Call to me and I will answer you, and will tell you great and hidden things that you have not known (Jr 33:3).
Jonah 2:2
I called out to the Lord, out of my distress, and he answered me; out of the belly of Sheol I cried, and you heard my voice (Jonah 2:2).
Matthew 6:5-6
And when you pray, you must not be like the hypocrites. For they love to stand and pray in the synagogues and at the street corners, that they may be seen by others. Truly, I say to you, they have received their reward. But when you pray, go into your room and shut the door and pray to your Father who is in secret. And your Father who sees in secret will reward you (Mt 6:5-6).
Matthew 7:7
Ask, and it will be given to you; seek, and you will find; knock, and it will be opened to you (Mt 7:7).
Matthew 7:11
If you then, who are evil, know how to give good gifts to your children, how much more will your Father who is in heaven give good things to those who ask him! (Mt 7:11).
Matthew 21:22
And whatever you ask in prayer, you will receive, if you have faith (Mt 21:22).
Matthew 26:41
Watch and pray that you may not enter into temptation. The spirit indeed is willing, but the flesh is weak (Mt 26:41).
Luke 6:12
In these days he went out to the mountain to pray, and all night he continued in prayer to God (Lk 6:12).
Luke 22:46
And he said to them, "Why are you sleeping? Rise and pray that you may not enter into temptation" (Lk 22:46).
John 14:13-14
Whatever you ask in my name, this I will do, that the Father may be glorified in the Son. If you ask me[a] anything in my name, I will do it (Jn 14:13-14).
John 15:7
If you abide in me, and my words abide in you, ask whatever you wish, and it will be done for you (Jn 15:7).
1 Corinthians 14:13
Therefore, one who speaks in a tongue should pray that he may interpret (1 Co 14:13).
Romans 10:13
For "everyone who calls on the name of the Lord will be saved" (Ro 10:13).
Ephesians 6:18
Praying at all times in the Spirit, with all prayer and supplication. To that end, keep alert with all perseverance, making supplication for all the saints (Eph 6:18).
Philippians 4:6
Do not be anxious about anything, but in everything by prayer and supplication with thanksgiving let your requests be made known to God (Phil 4:6).
Colossians 4:2
Continue steadfastly in prayer, being watchful in it with thanksgiving (Col 4:2).
1 Thessalonians 5:17
Pray without ceasing (1 The 5:17).
James 4:3
You ask and do not receive, because you ask wrongly, to spend it on your passions (Jam 4:3).
James 5:16
Therefore, confess your sins to one another and pray for one another, that you may be healed. The prayer of a righteous person has great power as it is working (Jam 5:16).
1 Peter 4:7
The end of all things is at hand; therefore be self-controlled and sober-minded for the sake of your prayers (1 Pe 4:7).
1 John 3:22
And whatever we ask we receive from him, because we keep his commandments and do what pleases him (1 Jn 3:22).
1 John 5:14
And this is the confidence that we have toward him, that if we ask anything according to his will he hears us (1 Jn 5:14).
Read More: