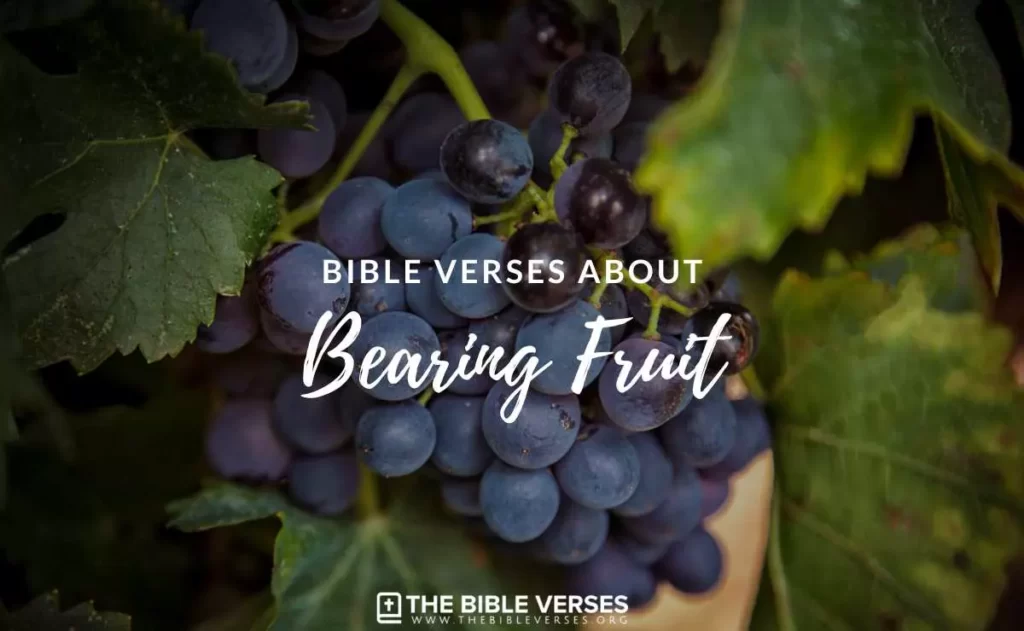 Matthew 3:8
Bear fruit in keeping with repentance (Mt 3:8).
Matthew 7:16-18
You will recognize them by their fruits. Are grapes gathered from thornbushes, or figs from thistles? So, every healthy tree bears good fruit, but the diseased tree bears bad fruit. 18 A healthy tree cannot bear bad fruit, nor can a diseased tree bear good fruit (Mt 7:16-18).
Matthew 12:33
Either make the tree good and its fruit good, or make the tree bad and its fruit bad, for the tree is known by its fruit (Mt 12:33).
Matthew 13:8
Other seeds fell on good soil and produced grain, some a hundredfold, some sixty, some thirty (Mt 13:8).
John 12:24
Truly, truly, I say to you, unless a grain of wheat falls into the earth and dies, it remains alone; but if it dies, it bears much fruit (Jn 12:24).
Matthew 13:23
As for what was sown on good soil, this is the one who hears the word and understands it. He indeed bears fruit and yields, in one case a hundredfold, in another sixty, and in another thirty (Mt 13:23).
John 15:2
Every branch in me that does not bear fruit he takes away, and every branch that does bear fruit he prunes, that it may bear more fruit (Jn 15:2).
John 15:5
I am the vine; you are the branches. Whoever abides in me and I in him, he it is that bears much fruit, for apart from me you can do nothing (Jn 15:5).
John 15:8
By this my Father is glorified, that you bear much fruit and so prove to be my disciples (Jn 15:8).
John 15:16
You did not choose me, but I chose you and appointed you that you should go and bear fruit and that your fruit should abide, so that whatever you ask the Father in my name, he may give it to you (Jn 15:16).
Romans 7:4
Likewise, my brothers, you also have died to the law through the body of Christ, so that you may belong to another, to him who has been raised from the dead, in order that we may bear fruit for God (Ro 7:4).
Galatians 5:22-23
But the fruit of the Spirit is love, joy, peace, patience, kindness, goodness, faithfulness, gentleness, self-control; against such things there is no law (Ga 5:22-23).
Ephesians 5:8-9
For at one time you were darkness, but now you are light in the Lord. Walk as children of light (for the fruit of light is found in all that is good and right and true).
Philippians 1:11
Filled with the fruit of righteousness that comes through Jesus Christ, to the glory and praise of God (Phil 1:11).
Colossians 1:10
So as to walk in a manner worthy of the Lord, fully pleasing to him: bearing fruit in every good work and increasing in the knowledge of God (Col 1:10).
Hebrews 12:11
For the moment all discipline seems painful rather than pleasant, but later it yields the peaceful fruit of righteousness to those who have been trained by it (Heb 12:11).
James 3:17
But the wisdom from above is first pure, then peaceable, gentle, open to reason, full of mercy and good fruits, impartial and sincere (Jam 3:17.
James 3:18
And a harvest of righteousness is sown in peace by those who make peace (Jam 3:18).
Matthew 7:20
Thus you will recognize them by their fruits (Mt 7:20).
Psalm 1:1-3
Blessed is the man who walks not in the counsel of the wicked, nor stands in the way of sinners, nor sits in the seat of scoffers; but his delight is in the law[b] of the Lord, and on his law he meditates day and night. He is like a tree planted by streams of water that yields its fruit in its season, and its leaf does not wither. In all that he does, he prospers (Ps 1:1-3).
Psalm 92:12-14
The righteous flourish like the palm tree and grow like a cedar in Lebanon. They are planted in the house of the Lord; they flourish in the courts of our God. They still bear fruit in old age; they are ever full of sap and green (Ps 92:12-14).
Proverbs 11:30
The fruit of the righteous is a tree of life, and whoever captures souls is wise (Pr 11:30).
Proverbs 12:14
From the fruit of his mouth a man is satisfied with good, and the work of a man's hand comes back to him (Pr 12:14).
Jeremiah 17:7-8
Blessed is the man who trusts in the Lord, whose trust is the Lord. He is like a tree planted by water, that sends out its roots by the stream, and does not fear when heat comes, for its leaves remain green, and is not anxious in the year of drought, for it does not cease to bear fruit (Jr 17:7-8).
Isaiah 27:6
In days to come Jacob shall take root, Israel shall blossom and put forth shoots and fill the whole world with fruit (Is 27:6).
Read More: