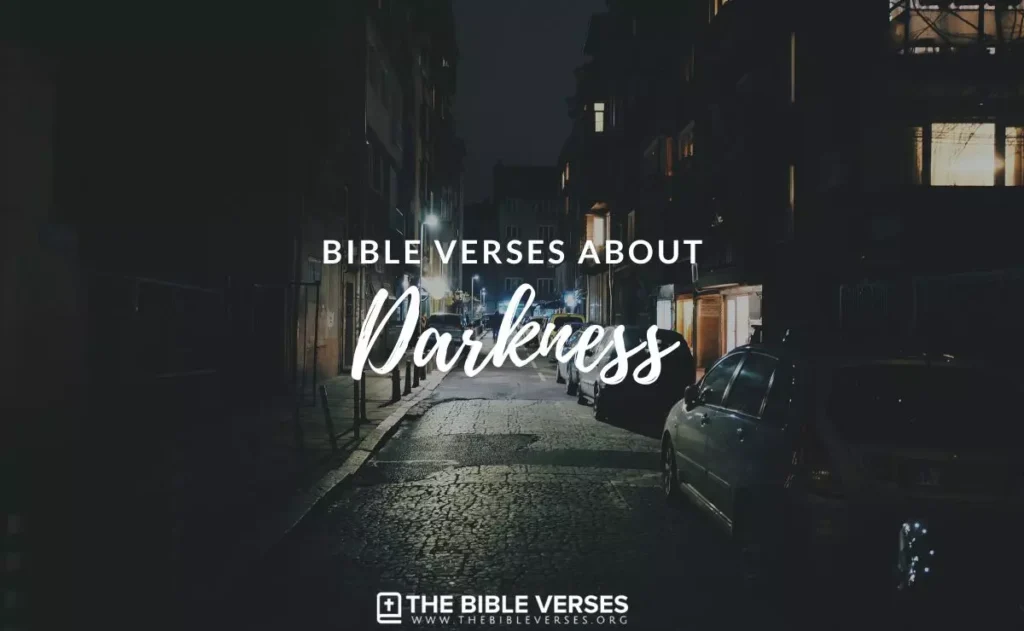 Bible Verses that talk about Darkness
Discover profound biblical verses about darkness, shedding light on its spiritual significance. Explore powerful scriptures that illuminate the depths of darkness, guiding you towards hope, faith, and triumph. Delve into the transformative words of the Bible, offering solace and wisdom in times of uncertainty and despair.
Uncover divine revelations that empower you to conquer darkness and embrace the radiant light of God's love. Experience the transformative power of these carefully selected verses, inspiring you to navigate the shadows with unwavering faith and find solace in the eternal glow of truth.
Psalm 23:4
Even though I walk through the valley of the shadow of death, I will fear no evil, for you are with me; your rod and your staff, they comfort me.
Isaiah 9:2
The people who walked in darkness have seen a great light; those who dwelt in a land of deep darkness, on them has light shone.
John 1:5
The light shines in the darkness, and the darkness has not overcome it.
Ephesians 5:8
For at one time you were darkness, but now you are light in the Lord. Walk as children of light
1 John 1:6
If we say we have fellowship with him while we walk in darkness, we lie and do not practice the truth.
Matthew 6:23
But if your eye is bad, your whole body will be full of darkness. If then the light in you is darkness, how great is the darkness!
John 3:19
And this is the judgment: the light has come into the world, and people loved the darkness rather than the light because their works were evil.
2 Corinthians 6:14
Do not be unequally yoked with unbelievers. For what partnership has righteousness with lawlessness? Or what fellowship has light with darkness?
Ephesians 6:12
For we do not wrestle against flesh and blood, but against the rulers, against the authorities, against the cosmic powers over this present darkness, against the spiritual forces of evil in the heavenly places.
1 Peter 2:9
But you are a chosen race, a royal priesthood, a holy nation, a people for his own possession, that you may proclaim the excellencies of him who called you out of darkness into his marvelous light.
Psalm 18:28
For it is you who light my lamp; the Lord my God lightens my darkness.
Isaiah 50:10
Who among you fears the Lord and obeys the voice of his servant? Let him who walks in darkness and has no light trust in the name of the Lord and rely on his God.
John 12:35
So Jesus said to them, The light is among you for a little while longer. Walk while you have the light, lest darkness overtake you. The one who walks in the darkness does not know where he is going.
Colossians 1:13
He has delivered us from the domain of darkness and transferred us to the kingdom of his beloved Son.
Proverbs 2:12-14
Delivering you from the way of evil, from men of perverted speech, who forsake the paths of uprightness to walk in the ways of darkness, who rejoice in doing evil and delight in the perverseness of evil.
Isaiah 5:20
Woe to those who call evil good and good evil, who put darkness for light and light for darkness, who put bitter for sweet and sweet for bitter!
Acts 26:18
To open their eyes, so that they may turn from darkness to light and from the power of Satan to God, that they may receive forgiveness of sins and a place among those who are sanctified by faith in me.
Romans 13:12
The night is far gone; the day is at hand. So then let us cast off the works of darkness and put on the armor of light.
Ephesians 5:11
Take no part in the unfruitful works of darkness, but instead expose them.
1 Thessalonians 5:4-5
But you are not in darkness, brothers, for that day to surprise you like a thief. For you are all children of light, children of the day. We are not of the night or of the darkness.
Read More: